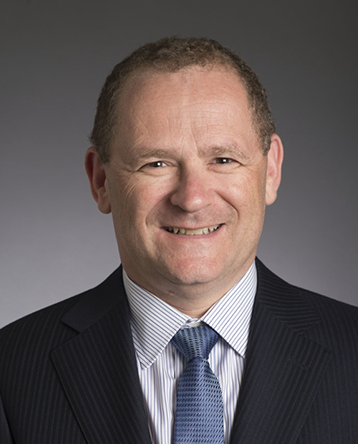 Alan Russell is the Highmark Distinguished Career Professor at Carnegie Mellon University and the director of Carnegie Mellon's Disruptive Health Technology Institute. Russell is also the chief innovation officer and executive vice president of the Allegheny Health Network. Russell was educated at the University of Manchester (B.Sc.) and Imperial College (Ph.D.) before becoming a NATO Fellow at MIT. He then accepted a position at the University of Pittsburgh in the Department of Chemical Engineering. After serving as chair of the Department he became the founding director of the McGowan Institute for Regenerative Medicine.

Russell has published over 150 papers and been awarded over 20 patents. His research team described the first use of enzymes in ionic liquids, the first use of pressure to control enzyme activity in supercritical fluids, the first stabilization of enzymes for chemical weapon defense, and the first use of ATRP to grow polymers from the surface of proteins. Russell's enzyme stabilization technology was singled out for the U.S. Army's Greatest Invention Award and products containing the core chemistry are now used to monitor activities in countries suspected of developing and using chemical weapons. The technology has been the foundation for almost $1 billion in procurement contracts since it began as a thesis topic in the Department of Chemical Engineering at the University of Pittsburgh. Russell currently serves on the boards of Greffex Inc., Applicell Inc., and a new emerging medical imaging company, Optix Medical. Russell has been the recipient of multiple prestigious awards, including the ESWP's President's Award for Engineering Excellence and the TERMIS Lifetime Achievement Award, and was ranked #32 in Rolling Stone's "Top 100 People who will Change America" in 2009.
Protein-Polymer Conjugates: Small Tools for Big Problems
Creating Next-Generation Therapeutics
Education
1987 Ph.D., Biological Chemistry, Imperial College of Science and Technology, University of London
1984 BS, Biochemistry and Applied Molecular Biology, University of Manchester Institute of Science and Technology
Affiliations
Media mentions
CMU Engineering
Producing protein nano-armor
Alan Russell and Krzysztof Matyjaszewski have published a paper in Nature Communications describing a new technique, PARIS, allowing the researchers to grow "protein nano-armor."
CMU Engineering
An easier prescription
Using a technique called Atom Transfer Radical Polymerization (ATRP), Carnegie Mellon researchers created a packaged protein that survives digestion-like conditions and is easily transported across the intestinal barrier in a cell culture model.