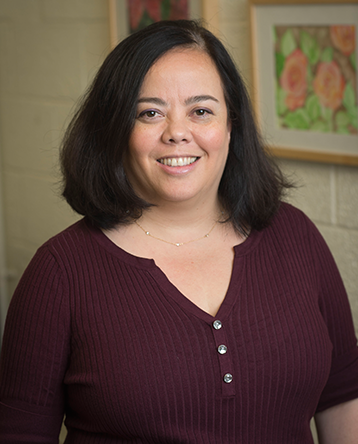 Susana Steppan received a B.S. in Chemical Engineering from the University of Southern California in 1986 and a Ph.D. degree in Chemical Engineering from the University of Massachusetts in 1990. After completing her doctoral degree, Steppan joined PPG Industries, and later Bayer Corporation, as a senior research engineer, where she carried out extensive characterization of industrial coatings, polyurethane products (coatings, elastomers, RIM, and foam), and thermoplastic materials. She managed the Material Science laboratory in Polymer Research at Bayer Corp. In 1996 she returned to PPG Industries to lead several product development teams within Automotive Coatings Research and Development. In 2001 she joined the Research Center on the Materials of the Artist and Conservator as a visiting senior researcher, where she conducted basic research into the nature of acrylic paints and studied appearance changes during aging of acrylic films.
Steppan joined Carnegie Mellon University's Department of Chemical Engineering in 2004 as a part-time Instructor and lab manager in the CPS program. She joined the faculty in 2012 full-time.
Steppan has always been interested in the characterization of materials. Her doctoral research focused on the rheological behavior of dilute polymer solutions. Her extensive industrial experience in the development and testing of coatings, elastomers, foams, and thermoplastics has helped improve the capabilities of the PPG Industries CPS Laboratory. She has also been instrumental in the development of new coursework materials for the CPS laboratory curricula. Steppan is also an integral member of the Colloids, Polymers, and Surfaces (CPS) Program, an interdisciplinary educational program providing coursework and an M.S. degree in the study of nanoparticles, macromolecules, interfaces, and the complex fluids formed by these materials.
Education
1990 Ph.D., Chemical Engineering, University of Massachusetts - Amherst
1986 BS, Chemical Engineering, University of Southern California
Affiliations