Student spotlight: Mariah Arral
Ryan Noone
Dec 14, 2021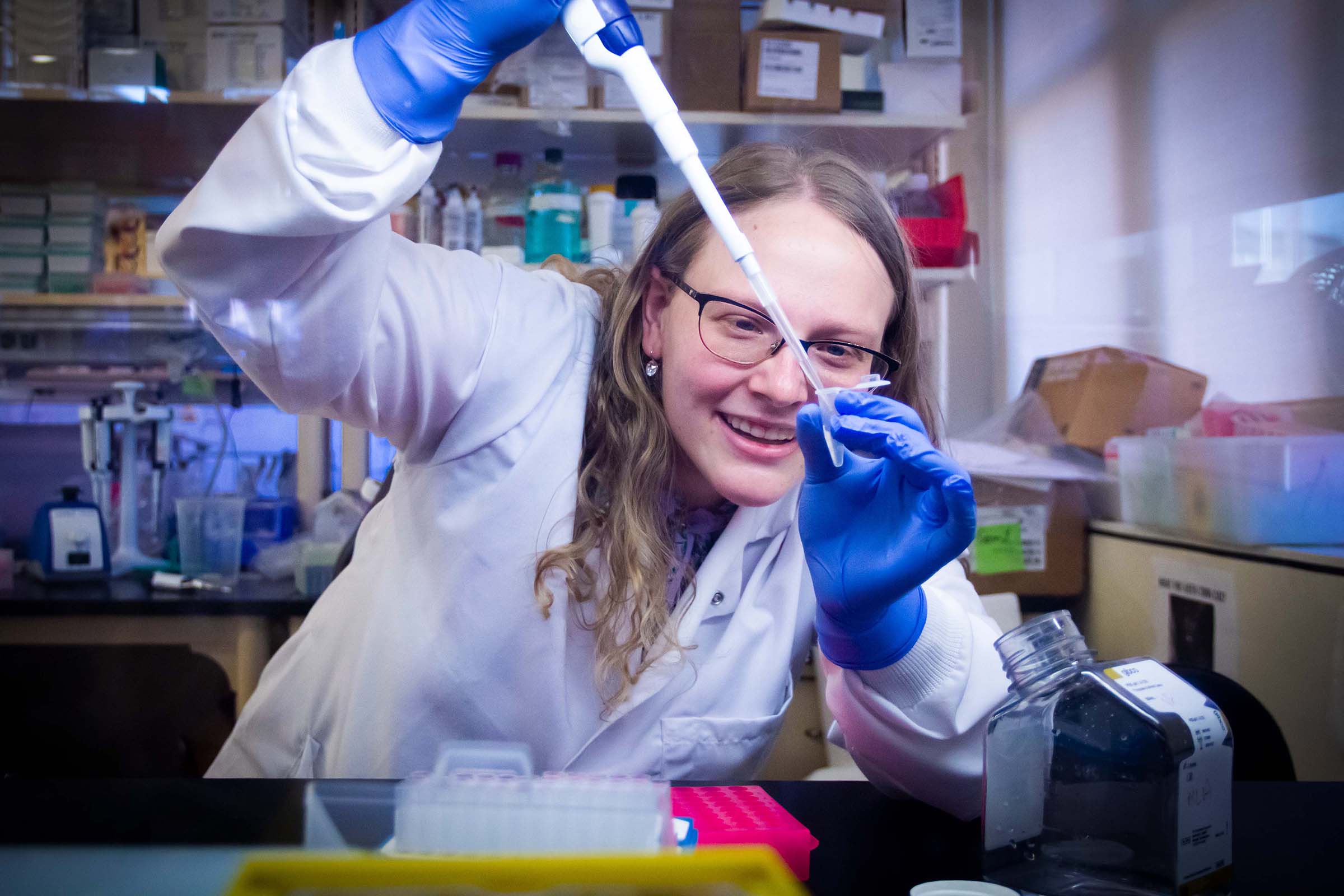 As a kid growing up in rural Maine and attending small public schools, STEM opportunities were few and far between for Carnegie Mellon Chemical Engineering Ph.D. candidate Mariah Arral. Many of her opportunities to explore science and engineering hands-on came from outdoor adventures and the projects her father would set up for her at the kitchen table.
Arral always had a passion for learning and discovering new things, which was only furthered when her sister Savanna temporarily lost her vision in 2009. Battling an Acanthamoeba Keratitis parasitic infection, Savanna was hospitalized and forced to undergo several procedures to remove her corneas, enabling the necessary medicine to diffuse in her eyes and get where it needed to go. From this experience, Arral found a genuine interest in drug delivery, an interest that would lead her to the education and career path she is working towards today.
As Arral began applying to college, she knew she wanted to get involved in research, and her desire to teach others made pursuing a career in academia a clear choice.
She was accepted at the University of New Hampshire (UNH), where she worked on her undergraduate degree while maintaining three jobs to help support her education and family back home. When the opportunity to work (and get paid) conducting research alongside UNH Chemical Engineering Associate Professor Jeffrey Halpern arose, Arral took advantage.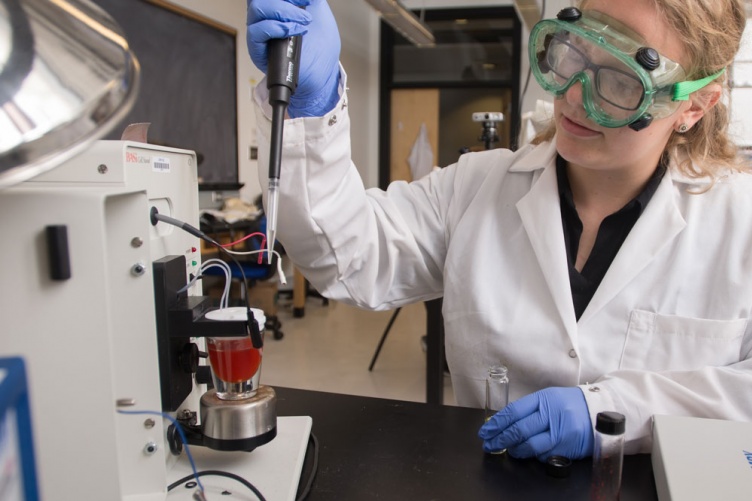 As one of the first students to join Halpern's group, Arral experienced what it was like to set up a lab, learned what becoming a professor would entail and earned experience writing grants and publishing papers. She detailed how Halpern helped her along, always providing the knowledge and tools she needed to achieve her goals.
Halpern explained the importance of funding and encouraged her to apply for grants that enabled Arral to push her own work forward. During her undergraduate studies, Arral obtained over $14,000 in independent funding. In 2018, she applied for and was accepted to the National Science Foundation Graduate Research Fellowship Program, providing her with an annual stipend to help her pursue her Ph.D.
When it came time to apply for graduate school, Arral knew she wanted to go somewhere where she could be mentored by a professor like Halpern. As a student with disabilities, including autism and dyslexia, she also wanted to make sure she ended up in a place that would accept her for who she was.
In speaking with Marissa Morales, a Ph.D. student in Halpern's group and a graduate of Carnegie Mellon's Chemical Engineering undergraduate program, she learned about the many opportunities CMU had to offer and about Associate Professor Katie Whitehead, who Morales believed would be the perfect advisor for Arral.
Arral applied to several programs and met with many professors to ensure she would be entering the right situation for her. However, after sitting down with Whitehead to learn about the lab's work and discussing the type of mentorship she was looking for, Arral knew CMU was the perfect fit.
Whitehead's lab focuses on developing novel drug delivery methods, which is directly in line with the type of work Arral envisions for her own lab. Whitehead's award-winning research has discovered ways to genetically engineer cells in human milk for infant disease therapy, uncovered a path to deliver insulin orally and pioneered RNA drug delivery technologies that are revolutionizing modern medicine.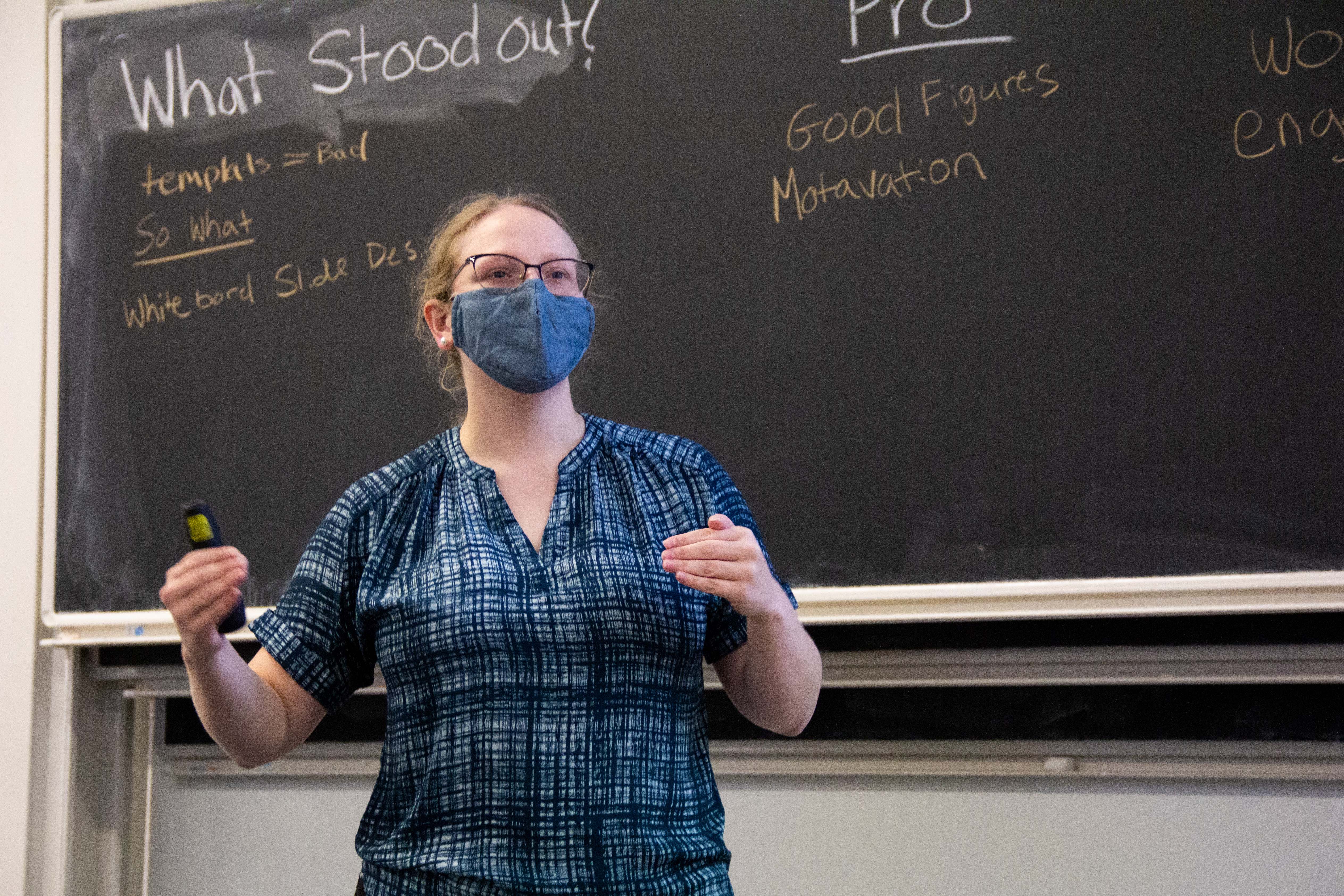 As Arral joined Whitehead's lab, she found a deep appreciation for the attention Katie gave to her students. That, coupled with Whitehead's expertise in communicating scientific research, an area Arral knew was a weakness and wanted to improve on, helped her begin transforming into the type of researcher she had always aspired to be.
"I've become such a better communicator through Katie's mentorship. She takes time to sit down with me, really look at what I'm doing and give intensive feedback," said Arral. "You can tell that she cares about her students because she spends so much time and energy on improving our written and oral communication skills."
Today, Arral is engineering new materials to deliver mRNA using lipid nanoparticles. She creates novel formulations that can enhance the delivery capabilities of current therapeutics. By synthesizing a large number of new materials of many different chemistries, she is working to understand how changes in chemistries affect the efficacy and safety of the therapeutic. Overall, her work aims to correlate the structure of the materials with biological outcomes.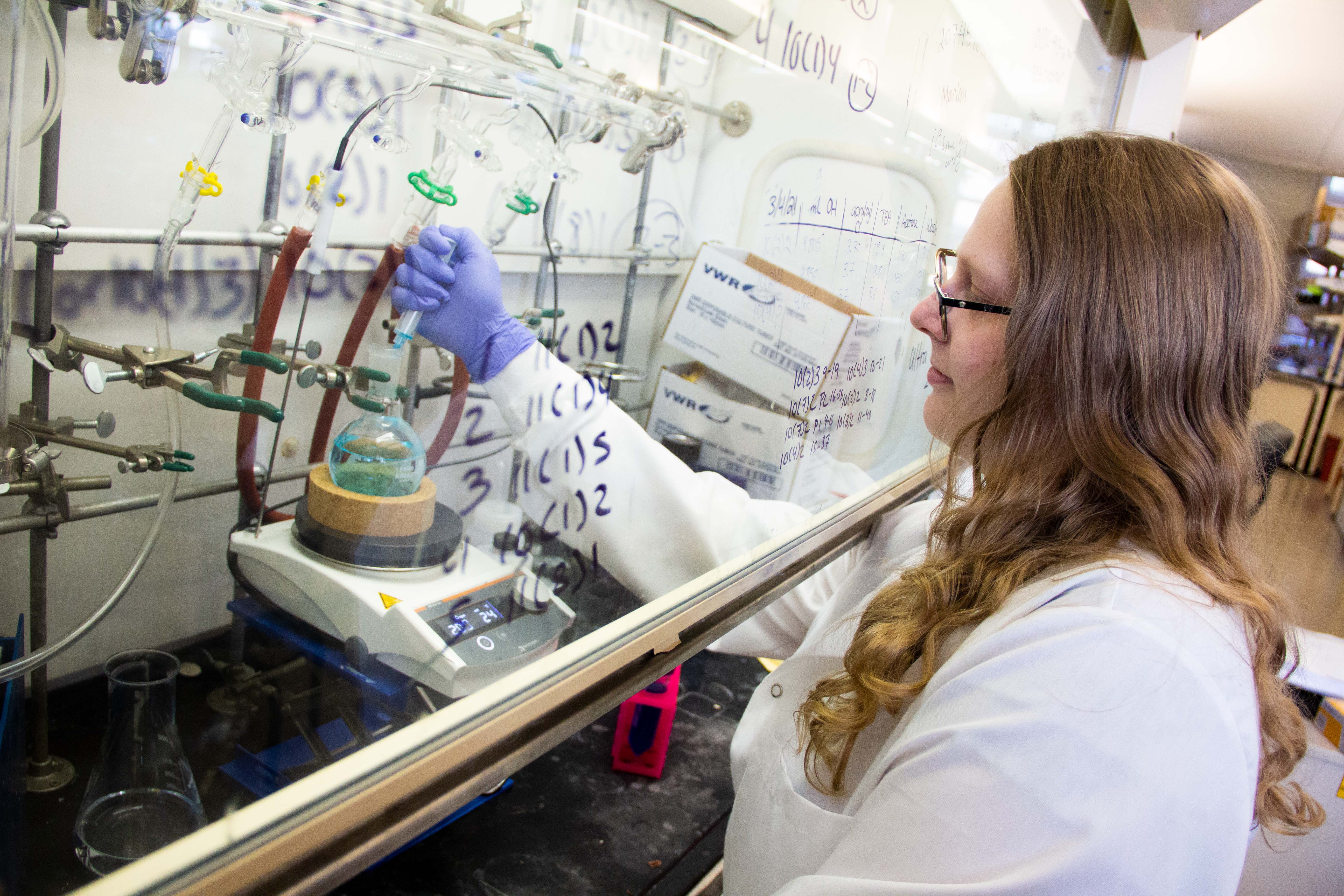 Arral is also interested in studying what effect age has on drug delivery outcomes, like efficacy, immune activation and toxicity. Her thesis will look to uncover how age impacts lipid nanoparticle-mediated mRNA delivery. She says there isn't much literature on the connections between age and lipid nanoparticle delivery and believes there are opportunities to become a leader in the space.
Following graduation, Arral plans to continue her work around aging and geriatric treatments.
"During the aging process, biological changes occur that affect drug delivery outcomes. For example, it is well known that immune activation declines with age. This decline is the reason there is a high dose flu shot for the elderly, as it allows for more protective immunity to be generated," said Arral.
"Additionally, the aging population is expected to approximately double by the year 2050, so there is a real need for geriatric-specific treatment methods. I want to work on age-related drug delivery hurdles and make significant advancements in that field."
Arral's work goes far beyond the lab, as she also spends her time advocating for fellow students and those with disabilities.
I had a real struggle growing up, being someone who excelled in the classroom and was disabled at the same time. Many people think those are mutually exclusive groups.

Mariah Arral, Ph.D. Student, CMU Chemical Engineering
She explained that costly assessments are often needed for students to be afforded Individual Education Plans (IEPs) and the accommodations necessary to succeed in school. While Arral considers herself lucky to have a parent who took on the expenses and time required to get the assistance she needed, she recognizes that isn't the case for everyone.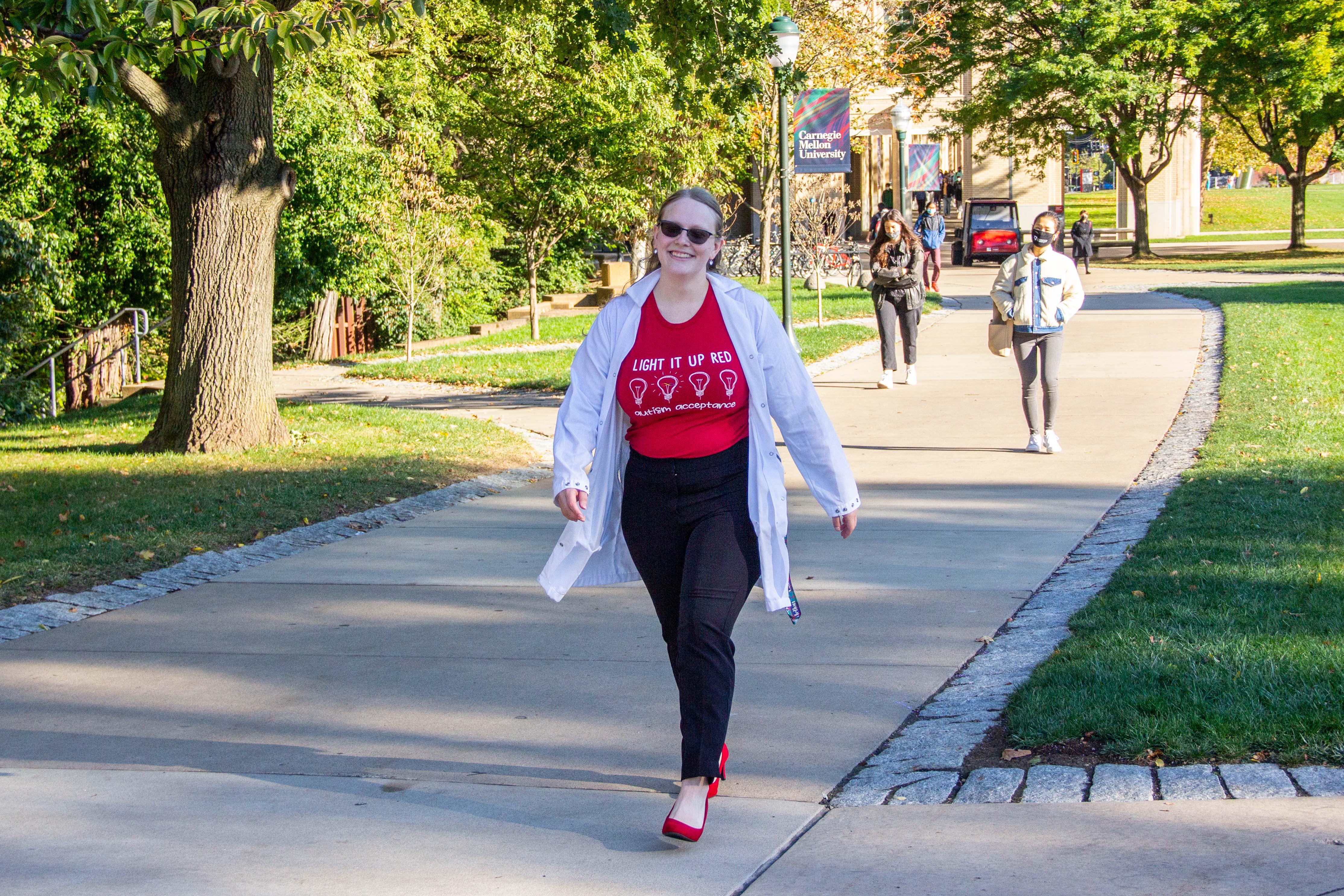 "If I didn't have the documentation and the accommodations, I would not be where I am today," said Arral. "And it's ridiculous to think that without those costly assessments, a financial barrier would have stopped me from succeeding in my chosen career path. Accessible education should be available to all. Sadly it is not always implemented, thus disproportionally pushing disabled people out."
Arral recently submitted a paper and had it accepted by the American Society of Engineering Education (ASEE), titled "10 Tips to Make Your Course More Accessible and Inclusive to Disabled Students." Her goal is to provide educators with a resource on how to make their classrooms more universal and accessible for all students. Arral is looking forward to the paper's final submission and hopes to present it this June at the national ASEE in Minneapolis.
During her time at Carnegie Mellon, Arral has also held several positions within the Chemical Engineering Graduate Student Association (ChEGSA). In 2018, she served as one of the organization's Social Chairs and became the group's President in 2020, where she created a first-year mentor program to help new students get acclimated and ease their transition into graduate school. She also helped create CHEGSA's Diversity, Equity and Inclusion branch, which she currently helps lead.
Arral's love for designing and testing new formulations follows her outside the lab. In her spare time, she loves cooking and coming up with new recipes. While her friends and family are particularly fond of her spicy meatballs and special sauce, she believes her signature dish is Linguica Chili.