Jackman engineers solutions to biology problems
Giordana Verrengia
Aug 17, 2022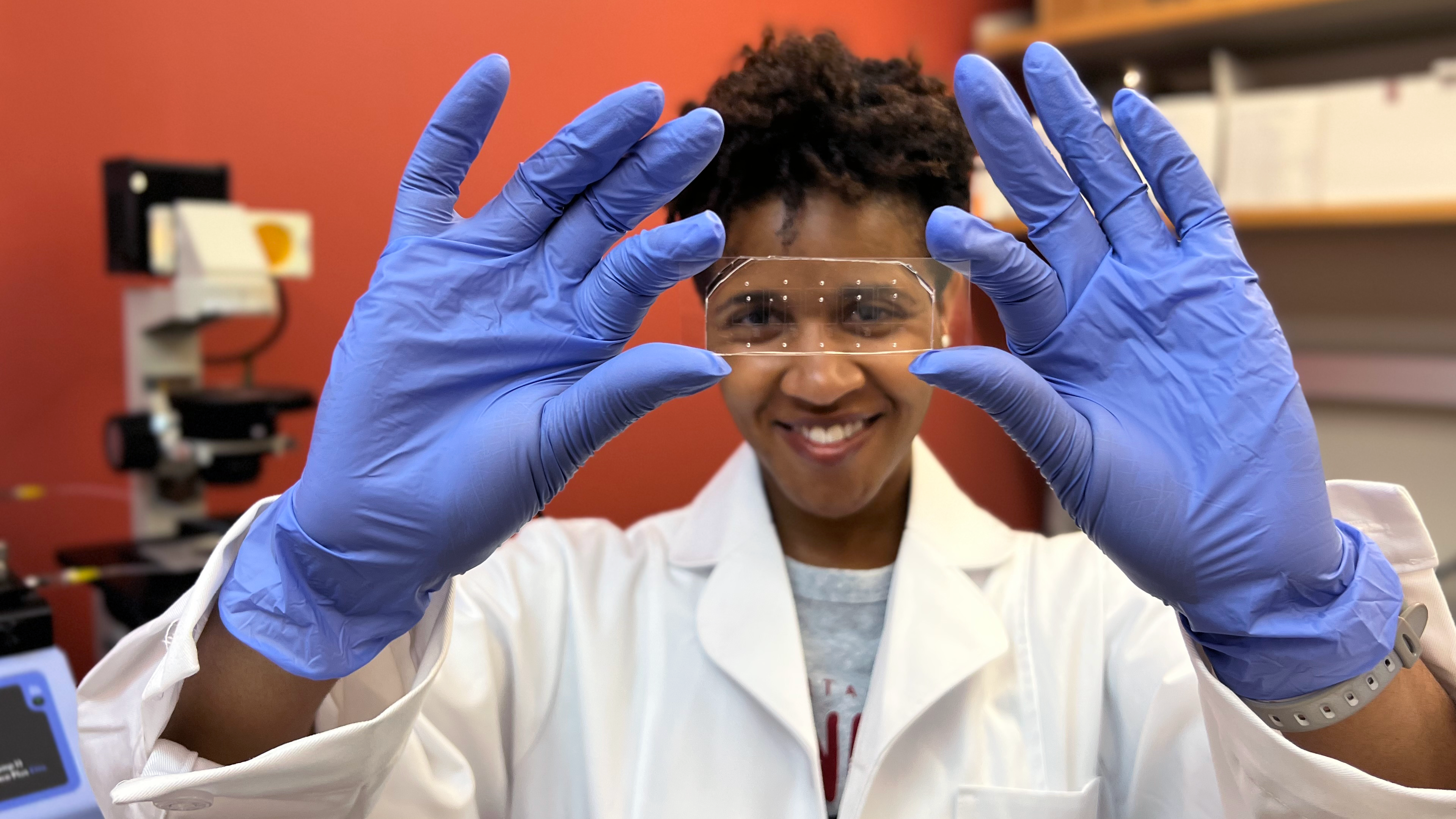 Corine Jackman's path to research has a very simple start.
One day, she saw classmates moving through the halls at Howard University wearing telltale white lab coats with notebooks tucked under their arms. Jackman, then an undergraduate, asked them what they did. The group replied, "research."
She wandered to the Howard University Center for Research Excellence Science and Technology and asked, "Can I do research, too?" Jackman was in. She received her own lab coat and began a storied trajectory that has led the first-generation college student from Howard to the University of Michigan. Now, as a President's Postdoctoral Fellow in Carnegie Mellon University's (CMU) Department of Chemical Engineering, Jackman has found a niche, answering biology questions using engineering tools.
As a child, Jackman was interested in biology, often playing outside, collecting plants and bugs to examine with her microscope. Pairing those interests with an affinity for math and science, she would eventually earn a Legacy Fellowship to attend Howard University. Because Howard did not offer a bioengineering program, she decided to work towards a bachelor's degree in chemical engineering. There, she met Dr. Reginald Little, who taught Jackman the basics of lab protocol, like keeping a notebook. She began poring over research papers and preparing samples as Little probed the effects of magnetism on graphene oxidation.
Working with Little, Jackman learned many research procedures, and the experience provided insight into how she wanted to apply her engineering skills and to what end.
As a junior at Howard, Jackman earned an internship opportunity with Merck, a large pharmaceutical company. There, she gained valuable experience in manufacturing, monitoring a piece of equipment called Accela-Cota, which paints pills like Merck's bright red diabetes tablets, Janumet. While learning skills like product documentation and parts replacement, the opportunity also led Jackman to an epiphany.
During my internship at Merck, I realized I could use chemical engineering principles in real-world applications for advancing human health.

Corine Jackman, Postdoc, CMU Chemical Engineering
The experience provided Jackman with a sense of belonging in the STEM community. As part of Merck's internship program, she was offered a fellowship with the United Negro College Fund. The fellowship came with an invitation to an accompanying weekend reception, which she describes as "more than shaking hands." Here, she met face-to-face with a high-caliber network of biologists and engineers who had received grants and were presenting their findings in biomedical research. Learning about their achievements marked another turning point for Jackman, and she began planning her next move after Howard.
Since Jackman was a chemical engineering major with no formal training in biology, one of the researchers she met through Merck recommended that she read a textbook, "Cell," to absorb the basics of the subject.
Going on to the University of Michigan, she continued learning the ropes of biomedical research in Dr. Nina Lin's lab, where she got the chance to study the human vaginal microbiome. While Jackman went on to earn both her master's and doctorate degrees in chemical engineering, Lin's mentorship was invaluable, providing a pathway to a career in bioengineering.
"I met with her every week," Jackman says. "She taught me how to do research, how to plan experiments, and how to have rigor and resilience in academia."
Now, as a mentor herself, Jackman's rigor is often put to the test by her own students. Some of them study engineering, while others study biological sciences; a few are at the undergraduate level, and others are preparing for Ph.D. programs. For Jackman, mentoring is not just a teaching experience but also a learning experience that she relishes. A mentee studying biology can make insightful observations about Jackman's work because their academic training is different. Likewise, Jackman teaches her engineering students some biology fundamentals as they adapt to interdisciplinary research.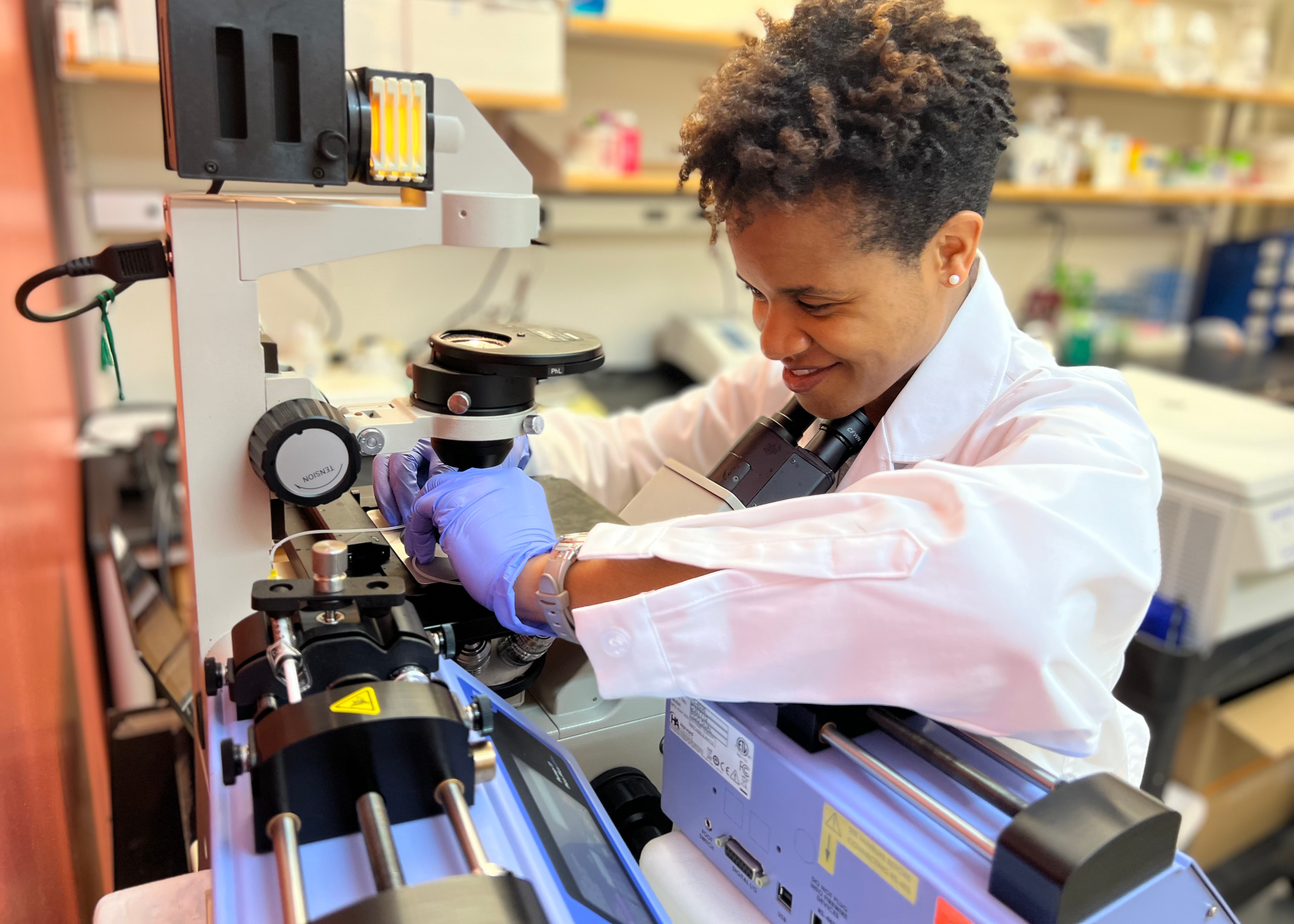 Of course, rigor is never more critical than during challenging times. In March 2020, just a few months after beginning her postdoctoral program at CMU, she was forced to put her lab work on hold. But Jackman has forged ahead, continuing her research with Dr. Luisa Hiller, associate Professor in the Department of Biological Sciences, and Dr. Shelley Anna, microfluidics expert and Professor of Chemical Engineering.
Their work focuses on the bacteria Streptococcus pneumoniae found in the nose and throat. Although often harmless, it can sometimes disseminate to other tissues and lead to serious health issues like pneumonia or sepsis. The trigger is unknown, yet the Hiller lab has hypothesized it has something to do with how bacterial cells communicate among themselves. The lab's approach has been to study heterogeneity and population density across cells in microenvironments.
"The ultimate goal is to design a new class of antibiotics," Jackman says. "If we have a molecule that can downregulate mechanisms implicated in disease, it can serve as an alternative or complement to current antibiotics and ameliorate the critical concern of antibiotic resistance."
Jackman was inspired by the bioengineers she met as an undergraduate student. Now, she's one of them, receiving research grants and setting her sights on engineering the future of medicine with her interdisciplinary toolbox. Jackman recently spoke at her first conference abroad, Europneumo 2022, where she presented her findings on the use of mini bioreactors for the study of bacterial cell-cell communication.
She uses two languages, engineering and biology, to meet her end goal of helping people, whether it's a student she mentors or a future patient who might benefit from her bacterial research. As Jackman strives to break new ground, she never tires of teaching or learning.