Alum spotlight: Marvi Matos
Lauren Smith
Feb 21, 2023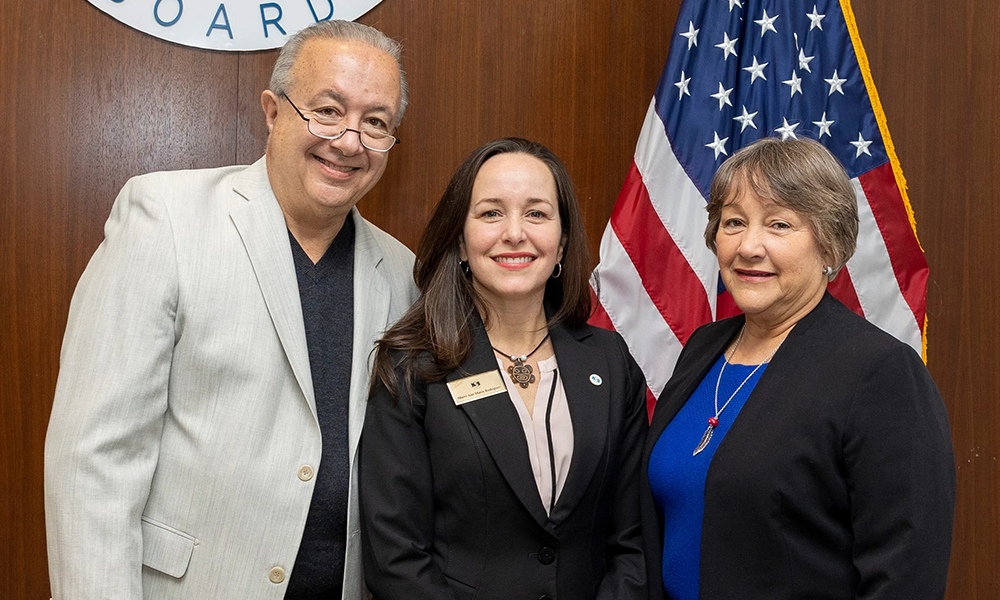 Marvi Matos ('06) is a chemical engineer because "it's engineering that you can use to scale solutions to practical problems." She sees her work as a way to contribute to society.
Matos is currently director of engineering at the Boeing Company. She has led a variety of teams at Boeing and Blue Origin, supporting rocket launches and rocket engine qualification work by leading the development of novel super alloys, thermal protection systems, and advanced manufacturing technologies. 
"I'm not doing engineering just because it's cool," says Matos. "I'm doing cool engineering work because it's serving a purpose, and it's serving as many people as possible."
Her path to chemical engineering and servant leadership began with a passion for math. As a young child, Matos entertained herself with math books from when her mother was a teacher.
"The cool thing about growing up in the small town of Jayuya, Puerto Rico," Matos says, "is that it's the kind of place where you grow up free." She walked without inhibition in her town and in the surrounding woods. She felt uninhibited in her schools, too, where there weren't stereotypes. As Matos developed her passion for math, nobody made fun of her. She was encouraged and inspired by teachers, family, and friends. 
Years later, she felt similarly empowered in the Chemical Engineering Department at Carnegie Mellon University, where she completed a Ph.D. in chemical engineering and an M.S. in colloids, polymers and surfaces. Matos recalls learning from "pioneers in their fields, incredible researchers, incredible professors, and amazing people just as people," including her advisor, Bob Tilton. "I'm a tiny person," says Matos, "but forceful. I've always been that way, but my education at CMU gave me the tools to approach life in a very determined, decisive way." 
My education at CMU gave me the tools to approach life in a very determined, decisive way.

Marvi Matos, Director of Engineering, Boeing Company
After CMU, Matos and her wife, Lilo Pozzo ('06), moved their family to Seattle, where Pozzo had been hired as faculty at the University of Washington. Matos began working as a lecturer in chemical engineering at the University of Washington and as an independent consultant. Then she moved into bioengineering as a senior research scientist. 
Though her next move to Boeing may seem disconnected, "there's always a thread," she says. Matos was researching plasma activation of molecules from surfaces in order to integrate techniques for diagnostics of food and blood samples when she noticed an open position at Boeing working with plasma-enhanced deposition technology. Instead of activating molecules to measure them, she began activating molecules to deposit a thin film. It was also the beginning of her successful career as a leader in industry.
Now, Matos is continuing her servant leadership as a new member of the National Science Board (NSB). She was recently appointed to a six year term by President Biden. 
Matos, who is currently completing an executive MBA at the Massachusetts Institute of Technology, was on a break from class when she checked her email and found out she was being appointed. She had been nominated by a mentor one and a half years before. She put her hand to her mouth and started crying, prompting a staff member to ask if she was alright. Matos assured her it was good news.
"It takes people to believe in you more than you believe in yourself for things like this to happen," says Matos. "This is especially true for women and minorities in engineering, and in fields that are male-dominated."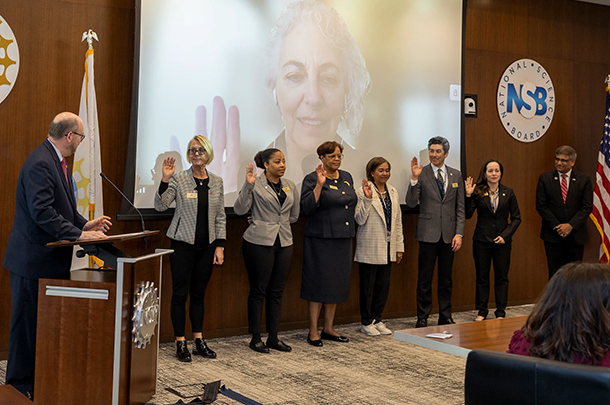 The National Science Board has the duty to "recommend and encourage the pursuit of national policies for the promotion of research and education in science and engineering," as stated in the National Science Foundation Act of 1950. The NSB also serves as an independent body of advisors to the President and Congress.
Matos is an advocate for government funding in education, which has been pivotal throughout her life. She graduated high school from a public boarding school focused on math and science. A grant from NASA helped to fund her Ph.D., and as a postdoc, she was a National Research Council fellow. The National Science Foundation (NSF) has also had a presence throughout her life. She participated in the NSF-funded Research Experiences for Undergraduates, and she brought an NSF grant to her unit operations lab at the University of Washington.
On the National Science Board, Matos hopes to focus on technology and innovation while emphasizing equity and inclusion. "If every woman, every Hispanic engineer, every engineer out there regardless of their background has support, can you imagine the kinds of things that we can do?" asks Matos. "We will be unstoppable."