Grossmann awarded AIChE Founders Award
Adam Dove
Oct 31, 2019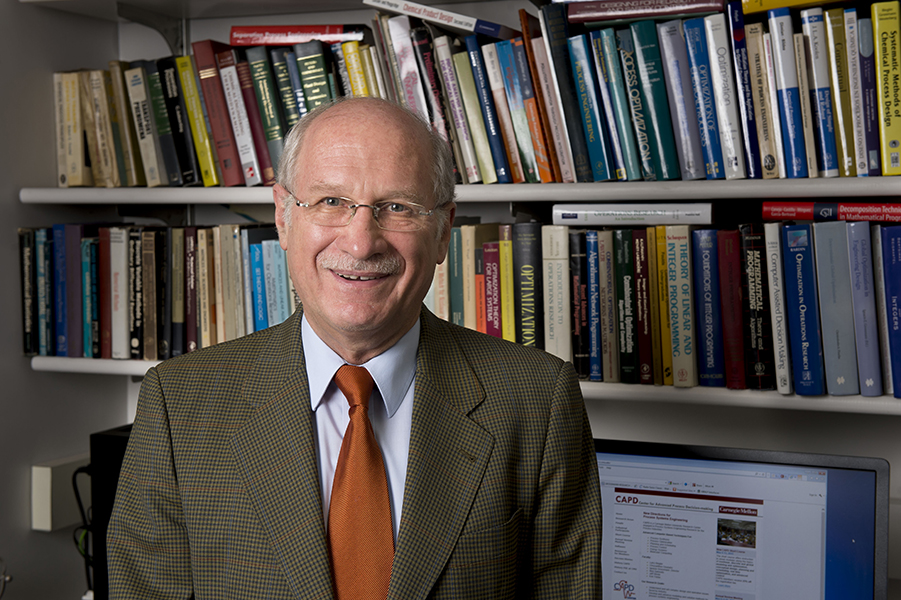 Rudolph R. and Florence Dean University Professor of Chemical Engineering (ChemE) Ignacio Grossmann has been awarded the Founders Award for Outstanding Contributions to the Field of Chemical Engineering from the American Institute of Chemical Engineers (AIChE). This is the highest award given by the Institute.

This award is presented each year to one AIChE member who has had a great impact on the field of chemical engineering as a whole, and whose achievements have advanced the profession in general. Recipients have a long and distinguished record of service, both technically and professionally, to the chemical engineering profession. Previous award winners include Julio M. Ottino (Northwestern), William F. Banholzer (Dow/Wisconsin), and George Stephanopoulos (MIT).
"I am thrilled that Ignacio Grossmann is being recognized for his tremendous career and major impact in process systems engineering through the awarding of the AIChE Founder's Award," says ChemE Department Head Anne Skaja Robinson. "Over the past four decades at Carnegie Mellon, Ignacio has lead the process systems field in simulation, modeling, and optimization strategies to name a few, and has a level of energy and caring toward his students and colleagues that is almost unequaled."
Ignacio Grossmann is one of the founders and Director of the Center for Advanced Process Decision-making, a Carnegie Mellon University research center comprised of twenty petroleum, chemical, and engineering companies, which is dedicated to understanding and aiding the complex design and operation issues affecting industry, and developing modeling for process systems engineering. Founded in 1985, the Center was built on CMU's long and innovative history in the field of process systems engineering, which has spearheaded the advancement of systems concepts and integration of computer and systems technology across all areas of science, technology, and industry.

Grossmann's work has been integral in the global development of novel mathematical programming models and techniques for a variety of problems in process systems engineering, and his contributions to systematic optimization strategies in process synthesis, design, decision-making under uncertainty and scheduling, and planning and supply chain management throughout the chemical processing enterprise have been groundbreaking. His research has particular application in chemical supply chains, process water systems, shale gas production, offshore oil and gas facilities, and many other fields. He has served as Director of the Synthesis Laboratory from the Engineering Design Research Center, associate editor of AIChE Journal, and member of the editorial boards of Computers and Chemical Engineering, Journal of Global Optimization, Optimization and Engineering, Latin American Applied Research, and Process Systems Engineering Series. In addition to AIChE, he is a member of the Institute for Operations Research and Management Science, the Mathematical Optimization Society, and the American Chemical Society.

"I am truly honored to receive the Founder's Award of AIChE as it recognizes the importance and impact of the area of process systems engineering," says Grossmann. "Without the great dedication and work of my students, and the strong support over the years by the department, as well as the stimulating environment provided by the Center of Advanced Process Decision-making and our collaborations with industry and the Operations Research group at Tepper, this prestigious recognition would not have been possible."

The Department of Chemical Engineering is proud to have Ignacio Grossmann as a long-standing and integral part of our faculty. This prestigious award is well deserved, and will be presented to Grossmann at the Institute's Honors Ceremony on Sunday, November 10, held during AIChE's 2019 Annual Meeting in Orlando, Florida.