Master of Science and Master of Chemical Engineering
Look around you; nearly everything you see was made in part by a chemical engineer. Focused on creating the future, our chemical engineers are revolutionizing the field of health and medicine, reducing atmospheric pollution, improving climate modeling, and paving the way for a more energy-efficient and sustainable future.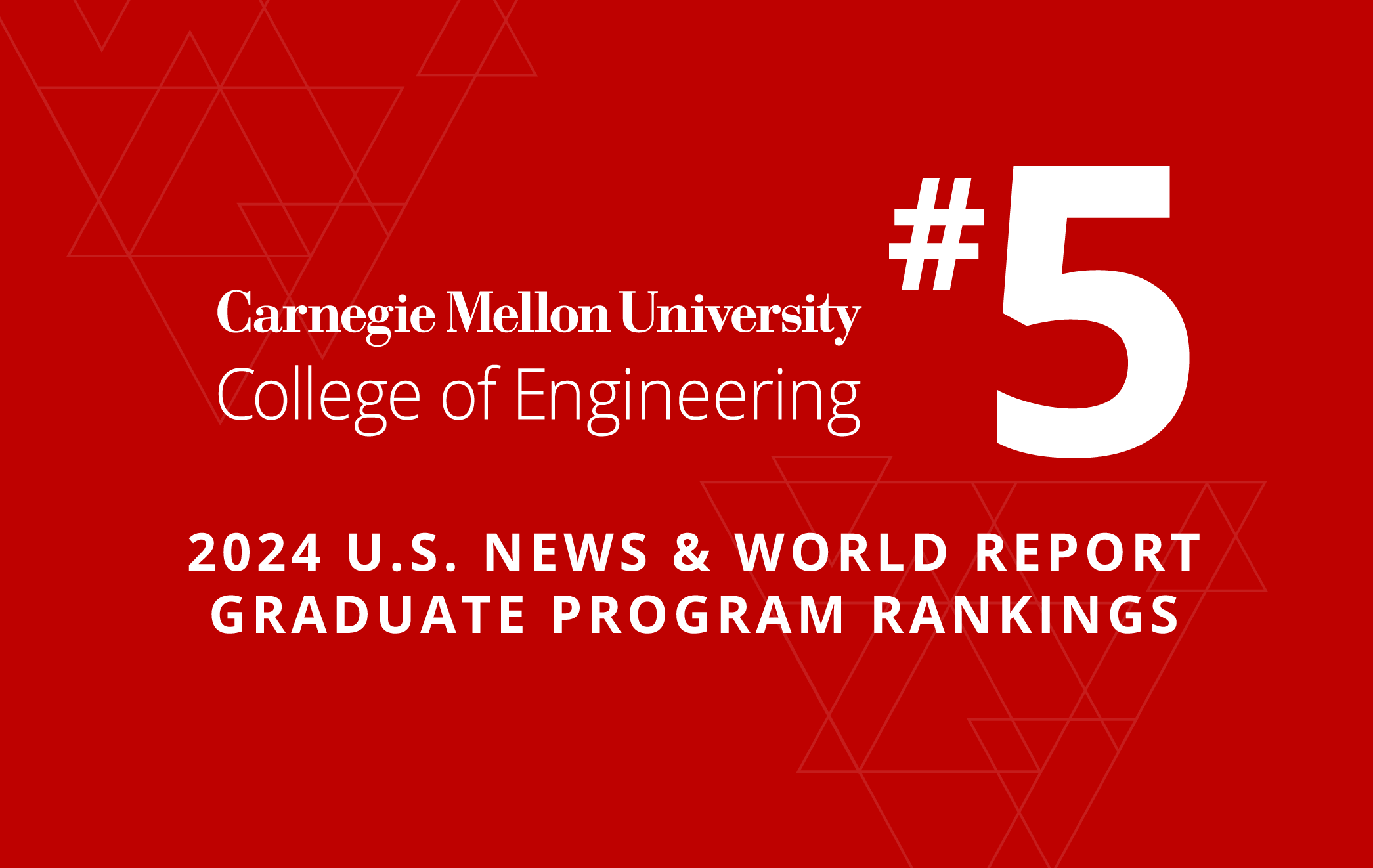 One of the nation's premier programs, CMU's College of Engineering ranks 5th on U.S. News and World Report's list of best graduate programs.
A one-of-a-kind computational focus
The Master of Science (MS) and Master of Chemical Engineering (MChE) programs have a unique computational focus, preparing students in core areas of chemical engineering, such as reactor engineering, process systems and transport phenomena. The goal of our MS and MChE programs is to produce skilled engineers who will have a deeper understanding of the fundamentals of chemical engineering and a broad set of professional skills and exposure to other technical disciplines.
Endless opportunities
The chemical engineering department's unrivaled computational expertise provides our students with the opportunity to learn cutting-edge techniques that are already revolutionizing the fields of materials and chemical discovery, among others. This unique feature is one of the reasons our graduates are some of the most sought-after candidates in both industry and academia.
Graduates go on to work at companies such as:

Industry-relevant curriculum
Our Master of Science and Master of Chemical Engineering degree programs provide students with a deeper understanding of the fundamentals of chemical engineering with a focus on problem-solving and mathematical modeling. The core curriculum is designed to enhance the skills of bachelor's-level chemical engineering, providing the tools and knowledge to model and solve complex real-world scenarios.
You can personalize your master's experience with curated electives that fit seamlessly into our curriculum.
Master of Science
The MS program supports both full and part-time students. Completing the degree requires the equivalent of four full-time semesters; however, some students are able to finish the degree in as few as three semesters.
Core courses (4) - Core courses designed specifically for the program
Electives (Min. 2) - Students may select courses from all areas of the College
Independent Project (6-course equivalent) - Students work with a research mentor
Students in the MS program complete a three-semester independent project working closely with a research group in the department. These projects are designed to provide students with exposure to one of the sub-disciplines of Chemical Engineering.
Master of Chemical Engineering
The MChE program can be completed either full-time or part-time. Full-time students typically complete the degree program in 2 semesters.
Core courses (4)
Electives (4)
Electives and independent project work provide exposure to the most current exciting areas of engineering and problem-solving.
Learn more about about the MChE and MS program degree requirements.
Admissions
The MS and MChE programs are designed for engineering students interested in focusing on the highly versatile core expertise of chemical engineering. Students from any engineering discipline are well prepared. Students from science or other technical backgrounds should be ready to demonstrate mathematical skills to be competitive.
Carnegie Mellon University
Located in the heart of Pittsburgh, Carnegie Mellon is a private, global research university, that stands among the world's most renowned educational institutions.
With cutting-edge brain science, path-breaking performances, innovative start-ups, driverless cars, big data, big ambitions, Nobel and Turing prizes, hands-on learning, and a whole lot of robots, CMU doesn't imagine the future, we create it.